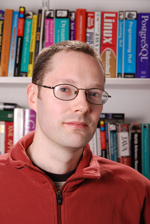 Chris is Senior Bioinformatics Research Officer and founder member of the Data Analysis Group. Like former Group member Ian Overton, Chris previously worked in Simon Hubbard's group at Manchester. Chris found the attraction of Dundee too great to miss, he dragged his family along with him, although his wife was happy to be back in Scotland!
Chris left the bench after a traumatising Ph.D. and has been "doing" Bioinformatics ever since. In that time he has worked on protein-protein interface prediction, homology modelling, prion protein structure analysis and various aspects of proteomics.
Chris joined the Group to forge links between the Barton Group and wet-lab researchers in the School of Life Sciences. He worked on protein structure prediction and proteomics, before being the first to do deep analysis of Next Generation DNA sequencing data in Dundee in collaboration with Gyorgy Hutvagner. He then became the founding member of the Data Analysis Group (DAG) and from March 2011 has worked primarily on a Wellcome Trust Funded collaboration with Irwin McLean. In March 2014 he returned full-time to the Data Analysis Group but will maintain his involvement with the Centre for Dermatology and Genetic Medicine (DGEM). From 2016 Chris was the DAG co-ordinator, responsible for the day-to-day running of the DAG.
---

---

---
Chris joined the Group on 1st Feb 2006. He moved on to a PI position at the Leverhulme Research Centre for Forensic Science on 1st September 2017.