Usage Statistics¶
JABAWS comes with a web application for visualizing usage statistics. The screenshot below shows the main page of this application. The individual month is linked to detailed usage statistics (described later). Please note, that the links to the detailed monthly statistics are only available for authenticated users in the role admin. There is a link at the bottom of the page that lets you login, if you have not done so.
If you are using JABAWS VA (Virtual Appliance) then the username is jabaws and password is not defined, i.e. empty.
If you have deployed a JABAWS WAR file, then please see the configuring privileged access for Tomcat web application server section for further details.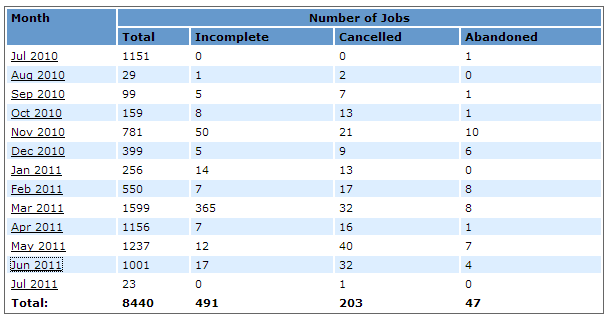 The table contains the number of jobs processed by JABAWS per month, for the whole period when the statistics was collected.
For each month the table contains the following information.
Month - the period of time for which statistics is displayed. For example Jan 2011 means period of time from the first of January to the first of February
Total - the total number of jobs accepted by JABAWS
Incomplete - the number of jobs for which the result file was not found or was empty excluding cancelled
Cancelled - the number of jobs cancelled by the user
Abandoned - the number of jobs which result(s) were not collected
The summary for each column is displayed in the last row of the table.
---