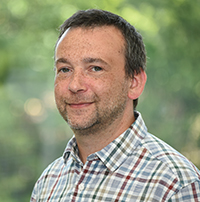 Ben studied for a BSc and PhD in pure maths at the University of St Andrews with a thesis formulating theorems and algorithms to calculate symmetries of unit-sided polygons constructed in a turtle geometry from polynomial generated sequences modulo prime powers -- a mix of algebra, geometry and number theory.
In 1997 he joined EDINA, a national datacentre at the University of Edinburgh, as a software engineer. This involved early work on full-stack server-side java web applications for bibliographic resources for UK Higher Education, data-munging and network protocols.
More recently he oversaw the authentication and authorisation systems that allow HE and FE members to access EDINA's services, alongside sysadmin and infrastructure work in a linux environment. Ben believes there's nothing you can't fix with a bit of perl, bash and an ssh tunnel. He ran introductory workshops for research students on using bash and regular expressions to efficiently handle data.
Ben joins the Jalview team to employ some old skills in new ways, and learn some new ones too!
Ben enjoys cake decorating, science fiction, fixing things, board games, and occasionally venturing outside to look for meteors. He holds the world record for the tiddlywinks long jump.
---
Ben joined us on 4th July 2018