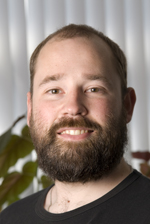 Nick, like Marek (below), has also made the transition from astronomy to biology. Nick studied for an MSci in physics at the University of Bristol, before completing his astrophysics Ph.D. at the University of Leicester. Nick has had postdoc positions on three continents (Europe, USA and Asia) culminating with a UK-China Fellowship for Excellence with the Institute for High Energy Physics in Beijing, China, before joining the Barton Group in 2009. Nick has always had a strong interest in biology (despite studying physics) and over the past few years has enjoyed working in a field with more immediate relevance to the world! Nick enjoys watching films, falconry, and all things football (he is a lifelong Liverpool fan despite not coming from Liverpool!).
Nick was originally part of the Data Analysis Group (DAG) a sub-group of the Barton Group. He was supported by funding from the Scottish Universities Life Science Alliance (SULSA) as part of our venture to carry out innovative data analysis for high data content/high-throughput techniques such as proteomics mass-spectrometry and next generation DNA sequencing.
On 1st July 2012 Nick moved onto a joint BBSRC grant between Geoff Barton and Gordon Simpson to work on non-coding RNA in Arabidopsis.
---

---

---
Nick joined the Group on 1st May 2009