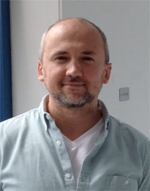 Alexey has joined us to do new research and development on JPred, Jabaws and other resources that we have developed in the group. He is funded by BBSRC. Alexey has made the move from high energy physics (with main focus on the Higgs boson discovery) to bioinformatics after more than a decade working on the LHC project at CERN, Geneva, Switzerland. Alexey received his Bachelor and Master degrees in Physics in 1999 and 2001 from the Novosibirsk State University (Russia), and his PhD in Physics in 2007 from the University of Florida (USA).
Outside work Alexey enjoys practicing and teaching yoga, training, running, and all things in Nature.
---

---

---
Alexey joined the group on 16th June 2014.
Alexey left the group on 20th March 2016 to pursue a new career as a data analytics consultant in London UK with the company Altius.