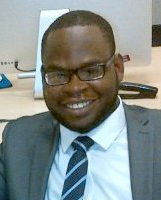 Charles Joined the Jalview team on 1st October 2014 as a software developer to help with new feature development and architectural enhancement.
Charles (a.k.a Tochukwu) obtained a Bachelor's degree in Electrical/Electronics Engineering from Nigeria, and then worked for a software company in Nigeria for about two years before deciding to proceed for his master's studies in Software Engineering at the University of Southampton, UK in 2012.
Immediately after his masters he moved to Aberdeen to work with the dot.rural research hub at University of Aberdeen as a Semantic web developer, a move which caused his friends to tease that he had become an extremist by moving from the extreme South to the extreme North of the UK!
Outside work, Charles enjoys chilling with friends, watching sci-fi movies, chess, badminton and Disk Jockeying"
---
Tochukwu (Charles) joined the group on 1st October 2014, then moved on to a position in Mike Sternberg's group at Imperial College London, on 1st July 2017.