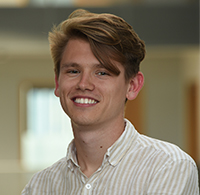 Maxim studied for a B.Sc. with Honours in Molecular Genetics at the University of Dundee, with a thesis focusing on characterising mutations of PML and PML-RARa bodies derived from relapsed patients with refractory acute promyelocytic leukaemia. Throughout his bachelor's degree, he was exposed to multiple disciplines in life sciences, from gene regulation and expression to structural biology.
After twiddling his fingers working in wet-lab based projects, he decided to make the big jump to computation biology with a keen interest in data sciences and expanding his programming skills. During one of his project rotations, he worked with Stuart MacGowan in the Barton Group to explore human population genetic variant data in TPR domains of O-GlcNAc transferase (OGT). This defined his Wellcome Trust Funded PhD project with us in the Barton group.
In his spare time, he enjoys gardening, anything science fiction related, and board games. Other times he plays the saxophone, and composes electronic music, as well as creating digital art and plenty of photography.
---
Maxim joined us on 10th September 2018.
---
Maxim successfully defended his Ph.D. thesis on Friday 13th May 2022. His examiners were Profs Mark Wass (University of Kent) and Alessio Ciulli. In March 2023 he moved to the AlphaFoldDB team at EMBL-EBI!