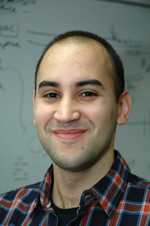 Fábio joined us as Ph.D. student on the Wellcome Trust Ph.D. programme in September 2013. His project was to study the impact of genetic variation on protein structure and interfaces. He submitted his Ph.D. in August 2016 and then became a Research Assistant in the group.
Before joining the group, Fábio obtained his B.Sc. in Biochemistry and his M.Sc. in Molecular Genetics and Biomedicine at the Universidade Nova de Lisboa. Getting more interested in programming and databases, Fábio shifted to bioinformatics joining the group of Prof. Ludwig Krippahl, where he worked on correlated-mutations and protein-protein docking.
When he is away from the computer, Fábio can be found at the swimming pool or most likely at the music room, where he dives into his piano improvisation.
---

---
Fábio joined the Group on: 1st September 2013.
Fábio successfully defended his Ph.D. Thesis at the end of 2016. His examiners were David Jones from (UCL) and Helen Walden (Dundee). Since October 2016, Fábio has been working on the BBSRC funded Dundee Resource project which includes JPred and the JABAWS webservices.
---
At the beginning of January 2018, Fábio moved on to a staff position working in Rodrigo Lopez's web production team at the European Bioinformatics Institute.